Our Tannerswood Home - 11 Greenways, Abbots Langley
Tannerswood is an Abbeyfield supported house in a quiet residential Abbots Langley street. It was originally a large family home and it continues to retain that homely feel as a supported house. The home is and has always been well supported by volunteers and has strong connections to the local community.
About the house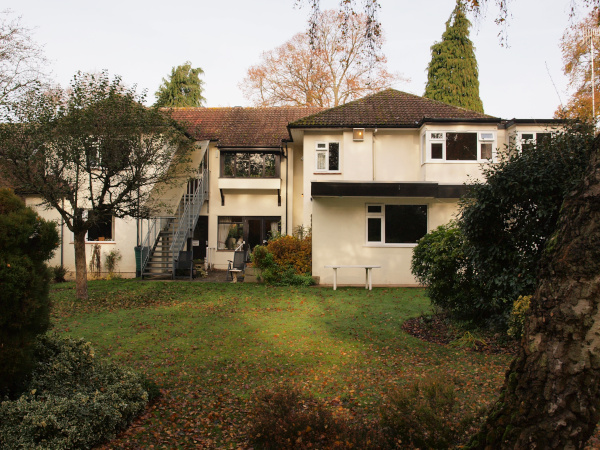 We have 10 en-suite rooms with kitchenettes and two en-suite double rooms with kitchenettes which are suitable for couples. A House Manager is on site 09.00-15.00 during the week and overnight assistants are on site 22.00-07.00 each night to provide additional security and peace of mind. In addition we have seven hands-on trustees with a wide range of expertise supported by a committed and enthusiastic team of other volunteers.
Residents prepare breakfast in their rooms, they have their own front door  with key, and come and go as they please. Residents get to know each other in our large pleasant lounge, which overlooks the beautiful, well-maintained garden. They enjoy a freshly cooked lunch and evening tea prepared by one of our friendly team of cooks in the company of fellow residents. The well attended open-house coffee morning each Tuesday and talks or other activities organised in the lounge on Thursday mornings offer opportunities to chat and make new friends.
 What people say about the house
Resident:
"It has been my home for a long time. I like the independence I have living here."
Resident:
"I have been here 8 years and I really feel at home. I love it here, especially the company and involvement with activities and events in the lounge and garden. The cooks are flexible on meal selection and the food is good. I have no hesitation in recommending the home to others!"
Resident:
"The kindness and care and personal attention are characteristics of the house and the people in it. I am treated as an individual and I feel I have a voice. This to me has been extremely valuable".
Resident's Representative:
"There are lots of good things about our Abbeyfield, it's grounded in values like compassion, respect, care, and kindness. Our local home has helped my very elderly father stay independent and secure. The staff all know what they're doing and the volunteers and trustees are second to none. I live a long way away and it's a relief to know that my Dad's health and well-being are always in good hands. We're fortunate to have somewhere so perfectly matched to his needs which is affordable and accessible. It's kept him going at a time when he could have felt lonely and unable to cope".